How to Promote Local Business on Google
Hi Friends ,In this Article we will discuss how we can Promote local or hyper local business on Google . Local results come for people who are searching Products & service near to them or in specific area of the city.Like if some one is searching for Dry cleaners in Gurgaon or Dlf  area,like some one is searching restaurant in particular sector in Gurgaon. Then results comes like this .

Google shows results on user preference or according to their keywords & location. Results also depends on the distance from you or your location & Google algorithms  decides what results to show to user.
Now Google generally shows 3 results for Google local listings.
Why local listing Important :
It helps in you website SEO
It comes before SEO results
Its get more click to action results
it helps local business owners
It doesnt required website
How Can you Apply For Google Local Listing :
Google Local listing is free of cost. There are some steps to verify your local listing .
step 1.    Go to https://www.google.com/business
step 2.  Login your account with exiting Gmail Id.
step 3.  Fill your business information & find your business on Google Maps
step 4.  Verify Your  business with mail(postcard ) or phone or sms it all depends How Google wants to verify .
step 5 . You will get 4 or 6 digit Pin number through which You can verify your Business.
Above are the basic steps if your business is not on Google .
Now We will Discuss how we can Promote local listing on search engine results .
Secrets of  best results from your local listings
1. Complete Google My business Listing
2.Name ,Address & phone Number
3. Using Latent semantic Keywords
4. Enable google map in website
5.Reviews
6.Social Sites Presence
7.Schema mark up
8.Local Citation
Now we will discuss each factor one by one.
Google My business Listing :
when we verify our address by Google Post card Pin after then we must fill up all details about our  business like
1.Business hours
2.Phone number
3. website name
4. Attribute
5. Photos
Now you have also facility of
Add virtual tour you can get profession video quote from Google Also
Recently Google also started Post facility through which you can post your offer also & even Google also making website on sub domain for business who does not have  their business websites.  Like this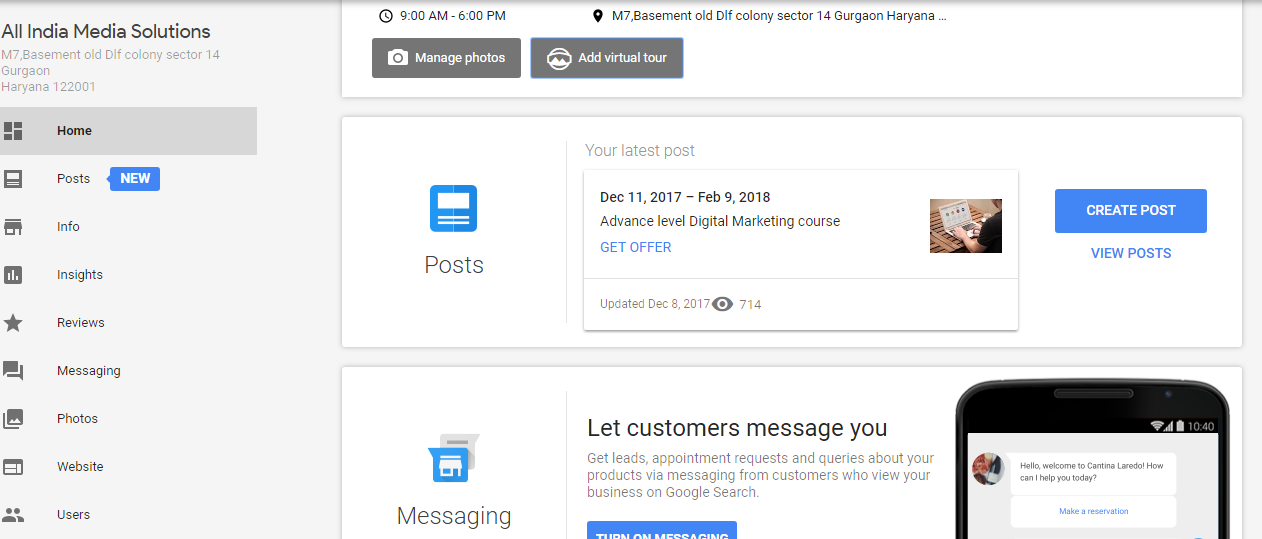 So we will complete our listing 100 % & this stem will definitely help us in getting good position on Google.
2.Name ,Address & phone Number
We know crawling is primary work of search engines .when we put some information on internet Google or search engine crawlers  crawls that page & also position on  search results. When we put different address & contact details on Different places of internet it will confuse Google to identify your business.
So for getting Good position through local listing always use  same Contact & Address each forum of internet.
3.Latent semantic Keywords
For promotion of local or hyper local business Latent keywords can help us . We can use these keywords while we choose category of our business . We can choose maximum 5 categories in Google my business .We should use keywords that are highly demand.
For selection of keywords we can use two free  tools
1.Google keywords planner
2.lsigraph.com
4.Google map in website :
By enabling Google Maps in your website ,you will increase authenticity  of your local listing .You can add Google map on Contact page of your website. Now Google will easily identify your business nature & location & Google will Promote your business on search results.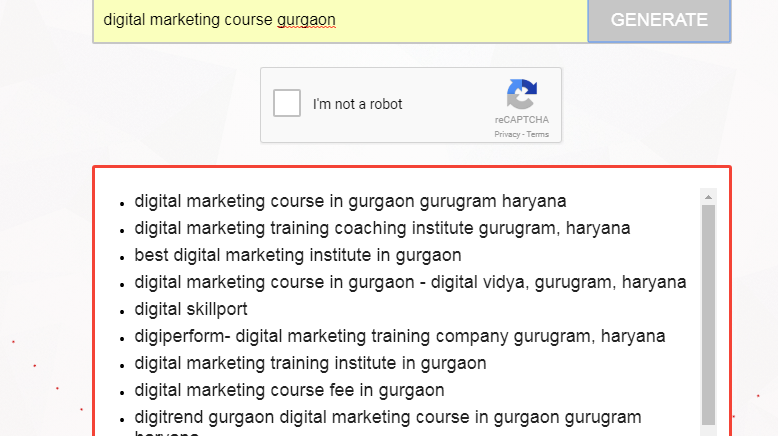 5.Reviews :
Google has provided option to users to give reviews on your business listings. Some times Google ask user when they come to your place about their experience. if you have positive & more reviews about your services it will definitely give you edge on your competitor on search results.
You can ask your exiting customers to give you Positive  reviews.
But always keep some points in minds
1.Reviews should be original .
2.Reviews must be from different users.
3.Reviews should not be from same IP Address
4.There must be consistency  in reviews it mean reviews should not come on a particular time or week or month.
So fake reviews on Google listing will not help you.
6.Social Sites Presence :
Presence on Different   social sites like
1.facebook
2.twitter
3 linked In etc
will also give you chance to get High Position on search results. Google also check reviews on these social media sites. Facebook page likes ,twitter followers  & Linked connection really matters.So please make your strong visibility Social sites & positive reviews also there.
7.Schema mark up :
Schema mark up is a code that help search engines to read your website more effectively.Google ,Yahoo,Bing & Yandex  collectively made Schema.org  to understand content of the website in more effective way.
By adding schema markup in website you can get rich snippet ,more information as well as events on the search results. we can also add
by structured data  mark up helper in Google webmaster tool.
it provide information about
1.name
2.address
3.phone number
4.timings
5.URL & publisher
adding schema mark up not only helps websites in getting higher positions  but also it helps in google local listing results.
8.Local Citation :
Local citation means presence of your business name  ,address,phone number on other places of internet.It provides authoritative information to search engines  about your business. For getting citation we can make our business profile on other places where search engine can consider, few places are
1.Just dial
2.yellow pages
3.urban pro
4.urban clamp
5.Question & answers sites
6.Blog commenting websites etc.
the above mentioned methods can give you to promote your local business on Google. click through rate of your local listing also provide you chance to come on better positions on search results.
Thanks for reading this article if you have any question reagrding this please send me mail on info@allindiamediasolutions.com
I will be happy to help you.